Glo teeth whitening device has been proven to whiten up darker stains from the teeth quicker and clinically provenly with just five days of usage. 
The glo brilliant whitening device is an F.D.A. approved teeth whitening device with several award-winning histories. 
This teeth whitening brand has outstanding qualities that make it trustworthy to beginners who plan to get teeth whitening products.
Top 3 Pick Teeth Whitening Kits
Professional Teeth Whitening At Home Device- your smile 5x whiter in 5 days, with little to no sensitivity.
Kit includes everything you need to whiten your smile almost immediately! powerful whitening device proven to whiten teeth faster.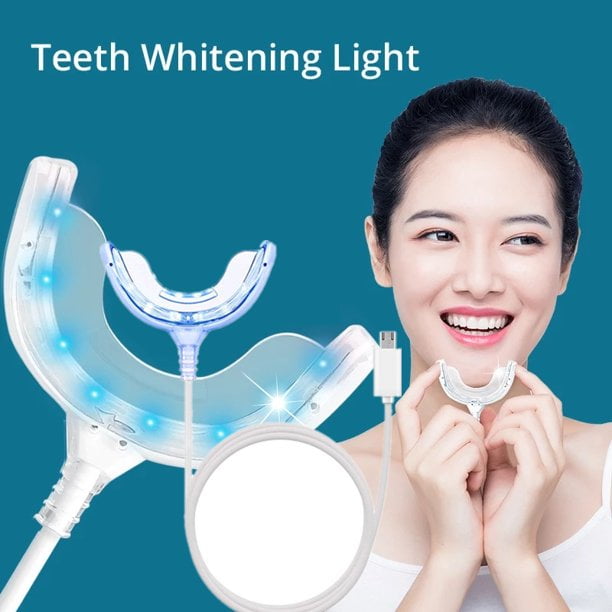 Powerful peroxide-free home teeth whitening kit
Scientifically formulated to provide teeth whitening results with no tooth sensitivity or gum irritation
Safe, effective teeth whitening from home without the sensitivity caused by peroxide teeth
Teeth whitening kit includes accelerator light that speeds up the whitening process.
Mouth tray requires no molding or boiling, which means tray fits any mouth and allows you to whiten the top and bottom teeth at the same time comfortably.
How does the glo brilliant deluxe teeth whitening device kit work?
Glo brilliant and glow lit have slightly different ways of applying procedure, but both kits have the same ingredients;
Apply the glo pro lip balm that comes with the kit before proceeding with the teeth whitening treatment to prevent dry lips.
They work simply by applying the gel on your teeth by simply twisting off the vial cap and putting a thin layer of the gel on the surface of each tooth.
How to use the glo pro teeth whitening device
The device comes with a small brush tip, making the application easier and preventing gum irritation or sensitivity. 
Once you have applied the glo whitening gel to all of your front teeth, plug in the mouthpiece, place it around your teeth, and leave it for 30 minutes.
After the treatment session is completed, rinse your mouth with water and the mouthpiece.
Please avoid eating or drinking anything for a maximum of 30 minutes after the treatment. 
Repeat this process daily following the glo teeth whitening instructions correctly until you get your desired result. 
How long does the glo teeth whitening result last?
The glo teeth whitening device gives you a long-lasting result of 3months. 
However, after your first complete treatment, you should use glo once a month. 
If you are the type your teeth discolor quickly, I recommend avoiding eating food that can stain teeth frequently. 
Observe the above precaution to maintain and enjoy longer results. Some food can abrupt the whitening result, such as coffee, red wine, curries, soda, etc.
Is the glo teeth whitening device safe?
Glo teeth whitening is safe and comfortable for at-home use. Recent research shows that glo whitening is effective when users glo instruction correctly.
How effective is the glo brilliant teeth whitening device?
Glo device as a light source is actually a safer alternative to ultraviolet (U.V.) light, which can cause cell mutations. 
Any teeth device light that does not lead to the mutation of cells can cause severe irritation to the teeth enamel. 
The device led speeds up the teeth whitening reaction without the risks of U.V. light.
During the glo teeth whitening process, it emits a bleaching agent to your teeth. 
The light activates the whitening agent and prevents the gel from having a chemical reaction. 
When this gent treatment reaction occurs, the blue light penetrates the gum enamel to remove stains and germs.
Generally, Glo brilliant teeth whitening is effective. Other brands you may want to consider are Auroglow, Caliwhite, and Oralfy teeth whitening kits (recommended)
Can the glo light damage my lips?
The answer is no! The mouthpiece's U.V. light uses L.E.D.s and produces a safe 470 nm blue light. 
It absolutely won't harm your lips, but you apply the lip balm that comes along with the glo whitening kit.
This will prevent your lips from drying, and the light only helps facilitate your teeth whitening treatment.
 Should I brush my teeth before glo whitening?
You can brush your teeth before the whitening process, and we recommend you floss and brush your teeth before you start whitening. 
By brushing, you are removing plaque from your teeth, allowing the whitening gel to accelerate the entire surface of your tooth evenly.
These preps will make your teeth whitening process faster and yield a good result.
How long should I wait before eating or drinking?
You are advised to wait after 20 minutes before eating or drinking. Avoid staining food for a while after your glo teeth whitening treatment. 
How does glo brilliant teeth whitening mouthtray function?
The mouthtray comes with a safe led light and warming heat to activate and facilitate the brightening gel on your teeth.
It also has an enclosed system, preventing air from escaping your teeth, and this results in faster and more effective teeth whitening treatment. 
The mouthpiece fits every mouth, and we referred to it as universal size. It whitens the top and bottom parts of your teeth simultaneously.
Pros of glo whitening device
Glo brilliant is the best way to whiten your teeth faster, painlessly, and effectively.
 The serum or gel is easy to apply and does not fall off your teeth while in use. 
The mouthtray is relatively comfortable and does not fall off while whitening.
The eight-minute timer and lanyard work very well and allow you to multitask freely. 
The best thing about the glo is that it does not cause any minimal sensitivity. The gel also doesn't taste too harsh, and it has a pleasant mint flavor. 
Cons of glo teeth whitening device
However, there are always a few downsides to glo brilliant teeth whitening treatment similar to any product. 
The process of reapplying the gel every eight minutes can be messy.
It is also important to apply the glo lip balm before each treatment application to ensure the gel doesn't dry your lips out.
While the treatment process is in progress, the L.E.D. light can dry out your lips. That is why it is vital to apply lip balm before the treatment.
What makes glo teeth whitening kit unique?
Glo brilliant is the only teeth whitening device that uses system combined heat and blue led light to give an at-home teeth whitening result faster without enamel sensitivity. 
They offer the best at-home professional teeth whitening kits. 
This teeth whitening treatment does not require a prescription from a dentist; just carefully follow the teeth whitening instructions.
It also has wireless Bluetooth connectivity that connects to the glo Whitening device.
Glo has a patented G.L.O. known as (Guided Light Optics) Technology, which is built into the mouth tray. The technology allows the mouthtray to gently warm up the teeth whitening gel placed on your teeth, and it speeds up the whitening process and brightens up your teeth safely.
 They also offer two different at-home teeth whitening kits, which are glo lit and glo brilliant. The glo brilliant whitening kit can be found in the most popular drug store and local pharmacy shops. 
  They are clinically proven and FDA-approved to whiten up your teeth in just five days and give you a long-lasting result.
  They are an award-winning company, and it won two awards from the prestigious Eddison consumer and goods package award.  
  The most exciting part of this whitening device is that it has a different price depending on your budget.
The glo lit teeth whitening kit is very affordable less expensive.
Glo brilliant teeth whitening kit is expensive.
Final words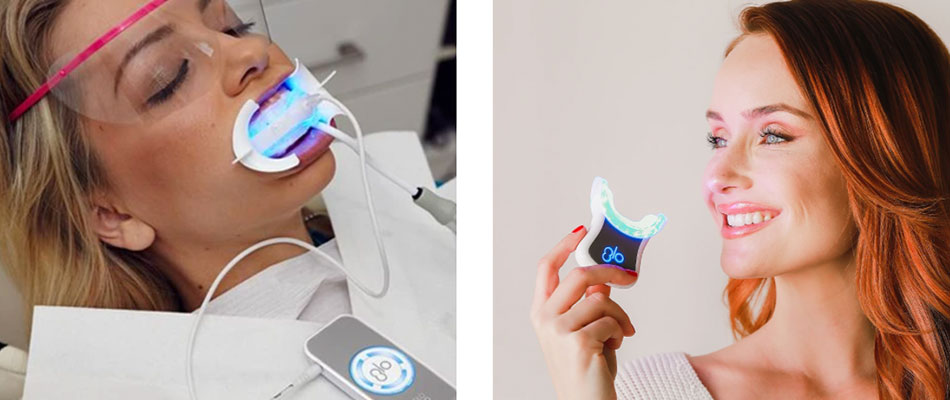 The above article has enlightened us on how unique glo teeth whitening device is among the varieties of teeth whitening products we have today.
Therefore, the product is worth considering since two kits suit your budget. 
Glo lit is a more affordable alternative, while glo brilliant is also there to suit your high budget; both work almost as well.
Glo teeth whitening kits offer the best at-home and professional teeth whitening solutions to individuals looking for a faster alternative to eliminate stains from their teeth. 
Glo pro brilliant teeth whitening device is an FDA-approved product and has a history of two prestigious awards in the past few years.
However, if you want to enjoy your glo teeth whitening device, you have to follow the glo whitening user instructions adequately. 
This will give you an outstanding and long-lasting result, and the results depend on your starting shade and usage habits.
If you drink coffee, soda, or tea often, your teeth may take longer to whiten to the desired style. 
With This whitening treatment, you no longer require an appointment with a dentist.
References
 https://www.columbuscosmeticdental.com/blog/your-top-faqs-about-glo-teeth-whitening-answered/
https://www.newmouth.com/dentistry/cosmetic/whitening/glo/

Deos Glo brilliant personal teeth whitening device work?