If you live with your family and have kids with you, you must have to take care of their health. You can consider choosing the best electric toothbrush for kids and teenagers by giving your kids a powerful toothbrush that can clean their teeth and provide healthy gums.
Top 3 Editor's Choice Kids Electric Toothbrush
Easier to get kids to brush longer and better with this sonic power toothbrush
Most preferred Sonicare toothbrush for kids
Inbuilt kid timer that helps train kids to brush better and effectively.
Bluetooth toothbrush provides real-time feedback on brushing habits
FlossAction for a superior interdental clean
3D cleaning action oscillates to break up plaque along the gumline
Effective Kids battery powered with a sonic brush head for more plaque removal than a manual toothbrush
Small brush head helps kids clean hard to reach spaces
Extra soft bristles are gentle on kids' sensitive gums and teeth
List of Best Electric Toothbrush for Kids & Teenagers
I have shared our top list of electric toothbrushes for kids and teenagers in the guide below as a quick pick for anyone looking to buy one.
1. Oral-B Junior Electric Toothbrush
This brush is meant to be used by kids and grownups into early teenage life. The reason to choose this brush is that, instead of stickers and cartoon characters, this brush is just really a solid, brightly colored brush that leaves teeth looking noticeably cleaner and plaque-free.
The brush buzzes after two minutes to let your child know when they've hit the target, and the battery life is decent, lasting 10 days with twice-daily brushing, as claimed on the package.
It has the same super-clean sensation as the original but with a harder brush head and more mature features like a pressure control sensor to prevent you from brushing too hard.
Pros
Decent toothbrush for kids
High quality
Alert timer
Cons
2. DaDa-Tech Baby Electric Toothbrush
This is the best toothbrush for kids because of its tiny head and soft nylon bristles designed to gently clean teeth and gums. It also contains a two-minute self-timer that vibrations every 1 minute to remind you when it's time to move on.
Pros
Two-minute timer
Soft bristles
LED lights
Cons
3. Brusheez Kid's Electric Toothbrush Set
With Brusheez kid's electric toothbrush, you have six color possibilities for the brush. This is a complete dental care package for children, making it a wonderful present for your child.
An electric toothbrush with a headcover, a rinse cup, A two-minute timer, and an extra head is included for your child to use every time they brush their teeth.
Each color selection changes the appearance of every piece in the collection.
With each hue, the animal-shaped cover changes as well. You will receive a stand with distinct slots for storing all products in one location.
Pros
Additional toothbrush head
Brushing sheet
Color changing toothbrush
Cons
It pops out occasionally.
4. Oral-B Pro-Health Jr. Kid's Toothbrush
The Pro-Health Jr. is another recommendation for you because this is a brush with a two-button control structure that makes it simple for a young child to comprehend how it works.
Even children who are learning to clean their teeth will find the brush straightforward to use.
The brush's bristles are designed to remove as much debris and food from between and on the teeth as possible. Oral-B is one of the best electric toothbrushes for braces for kids.
On the top of the toothbrush head, there are two sets of brushes. One set of bristles rotates in a circle while the other vibrates. The two bristles work together to provide optimum cleaning power.
Pros
Long-lasting battery
Comfortable brush bristles
Button control settings
Cons
5. Playbrush Bluetooth Smart Sonic Electric toothbrush
The Smart Sonic toothbrush is a lot of fun if you want an all-singing, all-dancing toothbrush with tons of engagement.
You'll need to download the Playbrush app and create an account to get started.
Once you've done so, your kids will have access to all the activities and a helpful brushing coach that shows you how effectively you're brushing in real time.
The brush is cheaper with the upgrade, and you get access to 12 games.
Pros
Reasonably priced
Brush supported app
Games on the toothbrush
Cons
Upgrade requires extra payment
6. Oral-B Pro 5000 Smartseries For Teenagers
Compared to a standard manual toothbrush, this is the best option you can go for. It oscillates, spins, and pulsates in a 3D cleaning motion to break up plaque and remove more plaque along with your teeth' gumline than a traditional manual toothbrush.
This best electric toothbrush for teenagers with FlossAction round brush head for deep cleaning due to the micropulse bristles.
Brush-to-smartphone connection delivers real-time feedback on brushing behaviors, assisting you in achieving astonishing outcomes.
Pros
Nylon is the bristle material.
Pressure sensor with light indicator
Five different modes
Cons
7. Arm & Hammer Kid's Spinbrush
This brush includes a small, soft-bristled head that fits smaller lips which may be the best electric toothbrush for your kids.
While the fixed lower bristles clean your child's teeth, the top bristles rotate to massage gums and may aid in combating plaque more effectively. Brushing your children's teeth with a battery-powered toothbrush is a less expensive but effective option.
Pros
Easy cleaning for plaque
Soft bristles
Less expensive option
Cons
The on/off button is hard for kids
8. Philips Sonicare for Kids Power Toothbrush
Philips Sonicare's colorful brush can be your best choice for kids that is Bluetooth connected, so youngsters may use it to access free interactive apps that teach the significance of brushing in a fun way. This Sonicare toothbrush is suitable for people with braces.
Children are less likely to be terrified of an electric toothbrush if it appears to be a fun gadget or toy, and adding music or other interactive aspects may certainly help.
Pros
Effective cleaning
Manual and instructional guide
Premium-like features
Cons
9. Fairywill Sonic Electric Toothbrush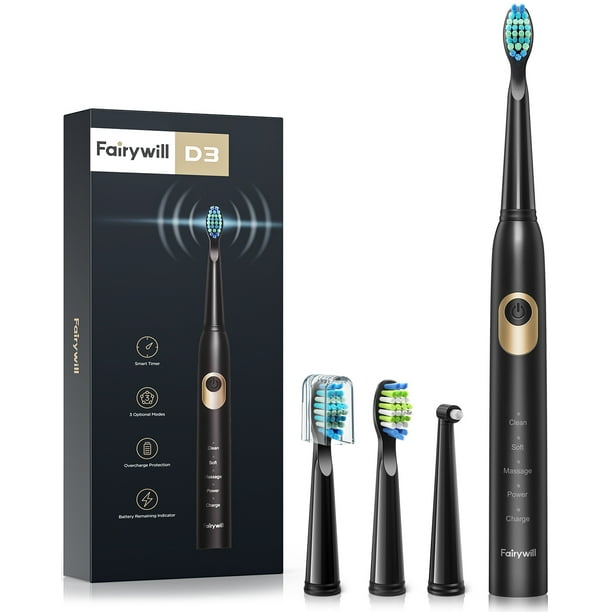 ORDER NOW
This brush has soft bristles and is especially suggested for youngsters with braces.
It is popular among adults and older children with braces because it can easily clean teeth without any disturbance. It's especially efficient for cleaning around the 10-year-old's braces.
One thing to note is that the bristles on this specific brush fade from blue to white over time, signaling a user that it needs to be replaced.
Pros
Best for braces
Effective toothbrush with soft bristles
Alerts whenever bristles need to be changed
Cons
10. Oral-B Stages Power Kids Electric Rechargeable Toothbrush
The next product is the Oral-B Stages Power Kids Toothbrush, which has been very common in many families with kids.
This brush fits well with the needs of kids aged 3 to 6.
Depending on your child's interests, this brush is available in five different characters.
It has a built-in 2-minute timer and is waterproof so that it may be used in the shower, but don't let the child wet it.
Pros
It comes with a 3-year warranty if registered on the website.
Magic Timer App for 2 Minutes.
Smart cleaning with soft bristles.
Cons
11. Oral-B Pro-Health Sparkle Fun Kids Toothbrush
The Pro-Health Sparkle is another consideration to keep in mind because it's an excellent toothbrush for kids with sensitive teeth.
It works with all Oral-B toothbrush replacement heads, including those with an oval head that wasn't designed to replace the brush's original head.
The brush head is made of soft bristles that are soothing on the teeth and gums. Also suitable electric toothbrush for kids with brace. Your kid would love to have fun while using this brush for teeth cleaning, just like my kids are. I personally prefer this one.
Pros
Versatile replacement heads
Best for sensitive teeth and gums
Soft bristles for kids
Cons
Difficult to replace batteries
12. Colgate Kids Electric Battery Powered Toothbrush
The next best electric toothbrush for kids or teenagers is the Colgate Electric toothbrush – the Batman version.
The distinctive design of the kid's electric toothbrush has a small vibrating head with extra soft bristles and a thin handle that is simple to grip for little hands.
The toothbrush and one AA battery are included in this kid's battery toothbrush bundle. It may lay flat to make it easier for kids to apply toothpaste.
Pros
Extra soft bristles
Attractive design
Easy-grip
Cons
Hard to replace the brush head.
13. Nuby Electric Toothbrush with Animal Character
This is a toothbrush for kids that includes two bristle heads, one for newborns and the other for toddlers and older children.
It is made for toddlers and young children who still clean their teeth with their parents.
There are three vibrant color options for the toothbrush and a toothbrush cover with an animal's head.
The cover shields the top part of the toothbrush from dust and water, including the controls. When the brush is turned on, it starts playing music.
Pros
Three vibrant colors
Two bristle heads
Music tune
Cons
These were the 13 best electric toothbrushes for kids & teenagers, with some effective options listed. I hope you find them useful for your kids and teenagers.
Top 3 Editor's Choice Kids Electric Toothbrush
Easier to get kids to brush longer and better with this sonic power toothbrush
Most preferred Sonicare toothbrush for kids
Inbuilt kid timer that helps train kids to brush better and effectively.
Bluetooth toothbrush provides real-time feedback on brushing habits
FlossAction for a superior interdental clean
3D cleaning action oscillates to break up plaque along the gumline
Effective Kids battery powered with a sonic brush head for more plaque removal than a manual toothbrush
Small brush head helps kids clean hard to reach spaces
Extra soft bristles are gentle on kids' sensitive gums and teeth